Despite Pakistan's hope that it could play bilateral cricket matches with its neighbour, the Board of Control for Cricket in India (BCCI) refused any such series in the near future saying they are not "ready to play with Pakistan".
While in an interview with The Sydney Morning Herald Wednesday, Pakistan Cricket Board (PCB) chief Najam Sethi concurred with the proposition of playing a Test match series against its neighbour at a venue acceptable to both countries.
PCB chief was of the view that "yes, I think bilateral Test matches can be played in Australia, England, and South Africa."
But, he said, I think the best bet would be England, and following that Australia.
"If you can get a house full in any of the Australian stadiums, fine, that would be great," added Sethi.
India media reported while responding to Sethi's interview that BCCI has no plans to play any bilateral series against Pakistan.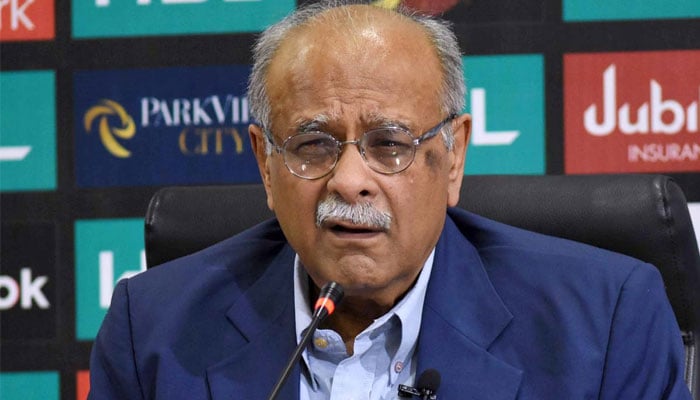 "No plans for such kind of series to happen in the future or upcoming days. We aren't ready for any kind of bilateral series with Pakistan," Indian media said citing a source at BCCI.
Pakistan and India haven't played bilateral series in any format since 2012-13. Pakistan last toured India for ODI and T20I series. The two arch-rivals played a Test against each other back in 2007.
After the terror attack on the Sri Lankan team in Lahore in 2009, doors to hosting international cricket were closed for Pakistan. No cricket was played in Pakistan for almost six years until Zimbabwe toured Pakistan in 2015.
Pakistan used to play all of their matches in the UAE during this time period.
Currently, the two countries continue to have a deadlock on Asia Cup 2023. 
BCCI has refused to send their team to Pakistan for the Asia Cup, which is set to take place in September this year, and is keen on ensuring that the event is held at a neutral venue.
However, the PCB is not interested in hosting the event outside Pakistan since it would affect its efforts with regard to the return of international cricket in the country.