When LSU clinched its first trip to the College World Series in six years, it gave 6-foot-6, 247-pound right-hander Paul Skenes a chance to break an NCAA strikeout record that has stood for more than three decades.
Skenes — who'll likely make his next start Saturday night against Tennessee in Omaha, Nebraska — is 15 strikeouts from eclipsing former LSU star Ben McDonald's 1989 mark of 202.
"Obviously, that's in the back of my mind," said Skenes, who has averaged just more than 11 strikeouts per appearance this season. "But the fact that I get to pitch again with this team, with these boys on the biggest stage, that's the coolest opportunity that I could have asked for."
CLICK HERE FOR MORE SPORTS COVERAGE ON FOXNEWS.COM
If LSU wins at least twice in the CWS's eight-team, double-elimination format, Skenes should get at least two starts.
"I'm hoping for three," Skenes said with a smile, referring to the maximum number of appearances he could make if LSU advances to the best-of-three championship series.
"Things are pretty good if he pitches three more times," LSU coach Jay Johnson said with a knowing smile. "And because of him, we'll have a chance to do that."
Then again, it's not beyond Skenes' ability to strike out 15 in one game. With a fastball that routinely clocks 101 mph, complemented by a sharp-breaking slider and deceptive changeup, Skenes has averaged a nation-leading 15.8 strikeouts per nine innings this season.
Skenes struck out nine in 7 2/3 innings last Saturday night in a 14-0 victory over Kentucky in Game 1 of the Baton Rouge super regional. Afterward, Wildcats coach Nick Mingione summed up the LSU fireballer's performance this way: "No. 1, he was up to 102 miles an hour, and No. 2, he threw more off-speed pitches than he did fastballs. Let that sink in."
RILEY GAINES SLAMS KARINE JEAN-PIERRE'S RESPONSE TO QUESTION ABOUT TRANS PARTICIPATION IN GIRLS SPORTS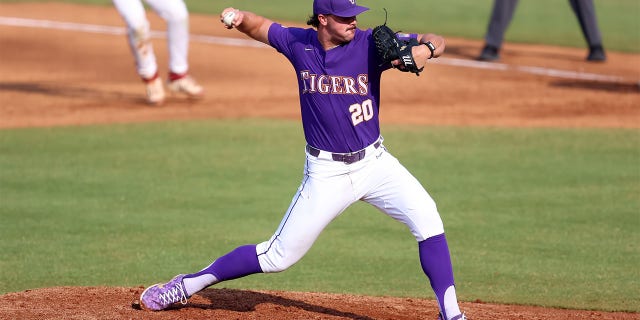 Even if Skenes falls short, he's turned in one of the most dominant seasons in NCAA history. McDonald pitched in a different era when starters went deeper into games. His 202 strikeouts were compiled over 152 1/3 innings. Skenes' 188 strikeouts have come during 107 innings pitched.
"It would be nice for him to have an opportunity to go two more times," said former LSU coach Skip Bertman, who coached McDonald and also won five national titles as Tigers coach. "He's a once-in-a-generation pitcher — like McDonald."
Skenes' earned-run average this season is 1.77 and he's walked just 18 batters.
"The 12 to 13 strikeouts a game, three to four hits, zero or one run up on the board, and being able to count on that at the level we play at and the schedule that we play — maybe somebody's done it before. I haven't really seen that," LSU coach Jay Johnson said. "Stephen Strasburg is the only competitor as far as just execution and talent and domination that I've seen" that compares.
CAVINDER TWINS TAKE ISSUE WITH RECENT STORY, DESCRIBE 'JOURNALISM PRACTICE' AS 'BLATANT SEXIST TROPE'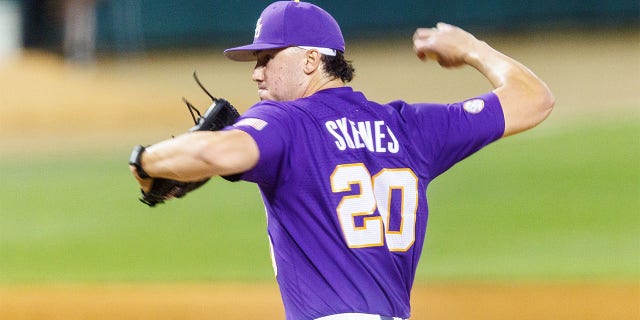 Strasburg averaged 16.1 strikeouts per 9 innings over 109 innings — 195 strikeouts total — in 2009 at San Diego State. That summer, the Washington Nationals picked Strasburg first overall in the Major League Baseball draft.
Skenes is projected to be taken in the top two picks, perhaps behind only his LSU teammate centerfielder Dylan Crews, who is hitting .434 this season (.579 in the NCAA tournament).
Unlike Crews, who was a bona fide MLB prospect since high school, Skenes wasn't sure pro baseball was in his future when he began college at Air Force. He was a two-way player before he transferred to LSU after last season, looking to specialize in pitching and elevate his draft status.
In the process, Johnson said, he's elevated LSU's season with more than just his physical attributes.
"He is the most special human being on the planet," Johnson said. "He's going to be an ace, a Cy Young winner some day, potential Hall-of-Famer. The character piece matches that talent and you never see that.
CLICK HERE TO GET THE FOX NEWS APP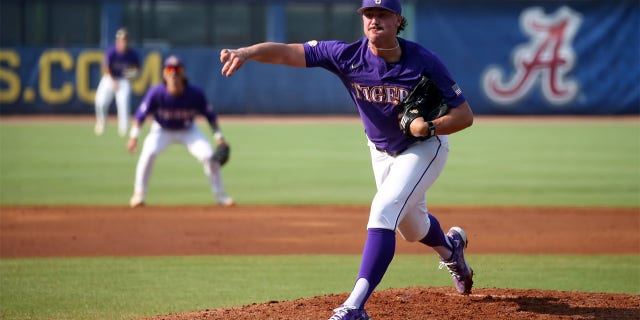 "His maturity level in terms of how he prepares, you can't do it any better from the time an outing is over until the time the next outing starts," Johnson said, referring to Skenes' recovery regimen, his video scouting and his throwing between starts. "It's as elite as you could ask for."
Skenes also has been able to adjust his in-game approach when he finds he's not executing certain types of pitches as well as he'd like on a given day, Johnson said.
"He's dominated no matter what he has or hasn't brought to the table in a particular outing," Johnson said. "That's a mark of a great pitcher."